Background
In September 1997 a non-profit organization Charitable Fund Downside Up was registered in Russia. The intention to create a center that would help families with children with Down syndrome in Moscow has appeared and actively put into practice long before that, in London. That is where the family of Veronique and Charles Garret lived; their third child Florence had Down syndrome. Her uncle, Jeremy Barns, worked in Moscow in the 90s. As Barns-Garret family is a very close one, Jeremy was well aware of what his relatives were going through and empathized. Therefore, his interest in the way that people with Down syndrome lived in Russia was perfectly natural. And what was happening in Russia at that time?
The birth rate was the same as everywhere - 1 kid with Down syndrome in 700-800 of newborns. The exact numbers of how many of them were put into orphanages right after their birth were not available, but by rough estimate it was around 90-95%. Doctors at the hospitals had always strongly urged the mothers (discussing it with both parents was not a common practice) to give up their newborn to be raised by the state. The personnel of obstetric institutions did it out of the best intentions and not only because of the official and unspoken rules that existed at the hospitals at that time. Any real knowledge about the abilities of people with Down syndrome was not popularized at all, at the time it was taught to neither medical students nor prospective specialist teachers. The mothers were told that their child will not learn to walk, to talk and that they will not recognize their family members. Here is just one very typical statement, shared with us by Elena Aristiva, the mother of Yura, who was born in 1996: «If by the age of ten your son learns to bring you slippers when you ask, it will be a huge achievement». The main idea that was presented to the parents was that the only ones to be able to manage with all the medical and other problems associated with the syndrome were employees of specialized state institutions, and that the mother had better forget about what happened, have another healthy baby and live happily ever after. Obviously, not everyone managed with the happy life well. 'It was hell' - says one of the mothers who signed the abdication, but took her baby back after a few months.
Those 5-10% of the parents, who ventured to raise their children in their families were very brave people, as from that moment they always had to live 'in spite of'; contrary to public opinion, the total absence of any accurate information about Down syndrome, proper medical care and the opportunity to send their children to kindergarten and school. Polina Zhiyanova, one of the leading specialists in Downside Up remembers: 'The parents used to take a walk with their kids at night, so that no one would look at them with contempt and take their 'normal' kid away hurling something insulting at the mother'.
There were many non-profit organizations founded in the end of 1980s - beginning of 1990 in Russia, both professional and parental. In 1993 Down Syndrome Association was registered and Sergey Koloskov headed it. Sergey was a very charismatic leader; not only he brought together the families that had children with Down syndrome, he was also the first person to speak out load to the whole country and give publicity to the problem of distress of people with disabilities in Russia. Koloskov had brought books and brochures from abroad. They consisted of a well-known in the West for over 20 years and well-established information that people with Down syndrome can learn, develop, live and even work with support.
At the same time in Britain «Downside Up Ltd.», a Charity created by friends and family of Florence Garret was actively working on calling for funds that would allow to open a center for the families raising children with Down syndrome in Moscow. The intention was to organize play groups where mothers could bring their children to leave them under supervision of the teachers and finally do something for themselves, like go to the dentist, get their hair cut, go see their friends.
Opening of the Center
The office in Moscow was opened in 1996 in a small two-room apartment. After that the march of the events was very fast and often rather astonishing. Was it a coincidence that exactly then the only team of specialists in early intervention, the service called 'Consolation' in Moscow was found and they concluded an association agreement. As it turned out very soon, this agreement stipulated a very high level of professionalism. The core of the team has stayed at Downside Up for all 15 years of it's existence. The first 'clients' were 23 families - babies and children of preschool age and their parents.
There was another interesting 'coincidence' in this story; the building where the office was located was two doors away from the first integrative kindergarten in Moscow. Some aspects of our life intertwined for a few years. Children with Down syndrome became the biggest category of special kids among others there and the methods of inclusive education were being perfected with their immediate and enthusiastic participation.
A very important occurrence was registration of Downside Up as a Russian organization. Practical work of our early intervention center was carried out in two formats: home visits and social adaptation groups. These first parts of work became a core of newly created and soon fully established and described family-centered model of early intervention, that became a hallmark of Downside Up. The main ideologist of this model, Polina Zhiyanova became one of the three prize-winners in nomination in 'Social and Professional Work for the Welfare of People with Down Syndrome' by Down Syndrome International, which was announced at the 11th World Down Syndrome Congress in Cape Town in 2012.
International experience has often formed the basis for our methods. Although Russia is traditionally very advanced in special education and psychology, early intervention was a completely new area that required special elaboration. Translations of the special literature and meetings with the foreign specialists were of a huge help.
The Growth of Downside Up
In 1998 we moved into a new building in the center of Moscow. As new demands appeared and due to the changing situation in the country, and in Moscow in particular, the number and variety of the assistance increased significantly. Such programs as prolonged counseling of families from other cities, teaching groups and individual lessons for children over 3 years old started to develop.
Step-by-step, we introduced a system of psychological support of the family. It includes both family support groups for those who have not gone through the shock after giving birth to a child with Down syndrome yet and a 'sand-box', that helps to adjust the optimal relationship between the mother and the baby by playing games and interacting with others. It turned out to be extremely important to have a psychologist at joint consultations of the families and, of course, during the first meeting with the mother (father, grandmother, grandfather, aunt - whoever has sought help at Downside Up).
Our publishing activities started in 1997 with appearance of the first issues of the magazine for the parents called 'Take a Step'. Soon we have started publishing translated books and the ones written by our authors. Later the publishing activities became a part of ours scientific and methodological work, which primary goal is spreading gained experience.
One of the most important and at the same time the most complicated areas of our work was education of maternity homes personnel. We were conducting seminars for the employees, leaving brochures for both personnel and parents. In reality in did not guarantee any fast or cardinal changes, everything still depended on a good will of a doctor, a nurse, an obstetrician. But the situation slowly started to change for the better.
By the middle of 2012 the number of kids with Down syndrome that were being raised in their own or foster families increased up to 40-50% in Moscow. Every year more and more families have taken part in the programs of Downside Up.
By the beginning of the century after attending social adaptation group sessions most children with Down syndrome over 3 years old started going to kindergartens, although lack of the specialists there demanded continuation of studying at our center. More and more graduates from our early intervention center after gaining additional experience at kindergartens were ready to start school. That was the beginning of creation of a new area of work. 'Getting Children with Down Syndrome Ready for School' project is Downside Up's 'contemporary history' mark.
It is important to answer the first obvious question, we are a non-profit organization, so where do money come from? From the very beginning all our services were free for the families. At first the search for funds for Downside Up was not very task-oriented or structured. Conducting the affairs in the non-profit sector for most of the new organizations was a terra incognita. In 1996, when the office of still not registered in Russia Downside Up just appeared, there was a charitable bike ride organized for raising funds. Later the bike ride 'Red Square' became the heart and the basis of the 'Charity Sports' project and another hallmark of Downside Up. Today Downside up has a successful fundraising department and so far we have been able to overcome all financial crises.
By the beginning of the millennium there was no doubt that to change the lives of children with Down syndrome and their families for the better is too much for just one non-governmental organization. Only with the help of other non-governmental organizations and in partnership with the state and all governmental bodies that are responsible for children's well-being something can be done. It was clear that the work should not be spontaneous, but task-oriented and goal-seeking. Downside Up has achieved a very significant progress in collaboration with the state and various international organizations, as well as in gaining authority and increasing its influence on development of the system that supports children with Down syndrome.
Downside Up has also established firm and solid relations with international community. Our fund is a member of European Down Syndrome Association as well as a member and the only representative in Russia of Down Syndrome International (DSi). The relationship between Downside Up and Down Syndrome Education International, the most authoritative organization in their area of expertise, became a very productive one. Sue Buckley, the creator of the foundation and now the Director of Science and Research programs has visited Downside Up, praised our work and agreed to become a member of an editorial board of 'Down Syndrome. XXI century' magazine.
We try to add to our arsenal every Sue Buckley strategy that have proved its effectiveness. 'Numicon' program became a striking example. New methods and techniques have never been kept secret. On the contrary, we find it a pressing question to propagate them among our colleges and the parents.
Any development, as we know, always come out of the process and the result of overcoming difficulties. In our work we were confronted by difficulties. In our work we have been facing challenges on all fronts, including in the fight against ignorance and prejudice. We understand how important the role of the media is in this fight, because only television and radio programs on the main channels, publications in popular newspapers and magazines can convey factual information to the public, these are true stories about people with Down syndrome and what is being done to support them. Therefore, the appearance of an awareness raising campaign in 2006, was another significant milestone in our history. As the result of this work we have achieved realization of many people that Down syndrome cannot be cured, but children with this trait can evolve, learn, go to kindergartens and schools, to be successful in sport and even work. And understanding, as we hope, leads to attitude change: our children are treated much better, now they do not cause disgust or compassion, but interest and joy for their success.
Downside Up has been growing, and pretty soon after moving to a new beautiful building in 2005 even it began to seem cramped. By 2010 the number of families needing assistance of Downside Up has increased so much that the provision of direct services by a limited number of specialists has become impossible. This necessitated the creation of a new activity strategy of the organization. The task was difficult, but the strategy was developed and came into effect in 2011. Its distinguishing feature is the emphasis on scientific-methodical work and active dissemination of the accumulated experience among specialists, early intervention services, rehabilitation centers, kindergartens and primary schools. We expect that the result of this strategy will be providing families with the opportunity to receive qualified psychological, pedagogical and socia; assistance closer to home.
Downside Up history began over 17 years ago; it continues today. What is happening now, in the era of the Internet technology, not less dynamic than in previous years.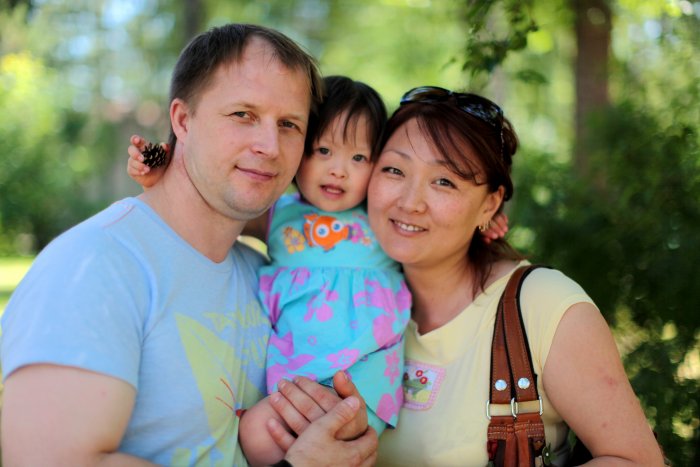 The Events of the "Modern History"
So, which new forms have emerged and have been successfully developed?
First, an advisory forum for interacting with families. For a long time we were witnesses of the fact that families are willing to travel for thousands of miles just for one day to receive counseling at Downside Up. In the end of 2008 the advisory forum was opened on our website www.downsideup.org in order to provide remote professional support with the help of the Internet.
Internet technologies allow us to fully realize our projects of cooperation with Russian regions and give them innovative experience and implement it into practice in public institutions. The objective of training professionals to work with children with Down syndrome is our main priority. The number of specialists who come to study from different corners of the country has been growing, as well as the number of visits of Moscow preschools by the employees of Downside Up. The schedule of visits to other regions requested by the local organizations is also becoming more and more intense.
Publishing activities keep developing. Every trip to the region, each workshop in Moscow confirms the existence of a pressing need in methodological literature.
An increasingly important role in educating the community and informing it about the latest trends in scientific research and practical experience plays a multidisciplinary journal "Down Syndrome. XXI century", publication of which began in 2008. To meet the needs of specialists and parents in the information will be possible with the help of an information portal about Down syndrome (downsideup.wiki) that we are working on right now. On the website one can already find articles, books, photos and videos of Downside Up specialists and our partners, and create their own collection of materials, give access to it to friends and share the links. The page will become a platform for providing online services, which is actively developed at Downside Up. The immediate plans of the organization include counseling and remote online training for parents and specialists.
15 years ago it was hard to imagine that the project, which started its life in such difficult conditions, when it was required to constructing entirely new roads to reach the goal, will gain a foothold in the modern reality. Something that was built by a small team of enthusiasts has now become a highly professional organization with qualified staff, developed and still developing methods, significant plans and extensive external relationships. Over the years the world has changed around us, as well as parents of children with Down syndrome. They became more confident and confident than those who came to us in 1997. Today there are 4500 families registered in various programs of Downside Up. All of them still need sympathy, help of reliable specialists and confidence that they will be heard and helped. And Downside Up remains to be the place where they can come for help and support, because we are still committed to our mission: «Improving the quality of life for Russian children with Down syndrome».
N. Groznaya